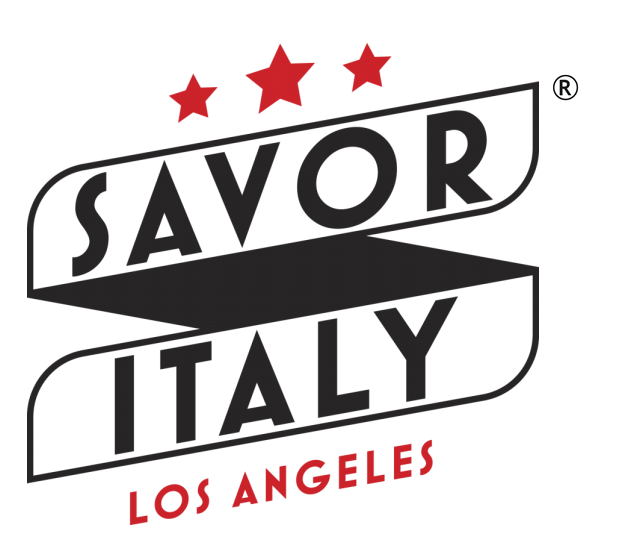 27-28 FEBRUARY, 2019 
THE PENINSULA HOTEL, BEVERLY HILLS, CA
SAVOR ITALY ™ Los Angeles is THE EVENT where to promote Italian food & beverage excellence on the West Coast of the US.
Organized by the Italy-America Chamber of Commerce West, the initiative aims to promote Italian food and wine companies, consortia, trade associations, regions and municipalities in the West Coast of the US, giving participants the opportunity to  meet directly with specialty food & wine buyers, importers & more.
LOCATION:
THE PENINSULA, BEVERLY HILLS, Located at 9882 S Santa Monica Blvd, Beverly Hills, CA 90212
VISITORS: 
Buyers, specialty store representatives, restaurateurs and trade associations reps, distributors, importers and brokers.
EVENT  PROGRAM 
WEDNSDAY, FEBRUARY 27th, 2019 
Seminars & Event Program Open Only to Showcasing Companies
THURSDAY, FEBRUARY 28th, 2019  
11:00 am - Trade Showroom Doors Open
11:30 am - 12:25 pm- Guided Seminar Presented by Laura Donadoni - Discover Abruzzo Featuring Tenuta Ulisse Wines 
1:00 pm - 1:45 pm  - Seminar Featuring Consorzio del Prosciutto di Parma, Presenting the Whole Leg Campaign 
2:15 pm - 3:15 pm - Guided Seminar Presented By  Laura Donadoni -The Art of Pairing White Wines Featuring Wines from Lugana 
3:30 pm - 4:15 pm - Future Food Institute presents: Food Shapers: Disruptive Trends in Our Food System 
* Seminar space is limited, seating is on a first-come, first-served basis. We kindly ask to drop off your business card at check-in to attend trade fair and seminars*
5:00 pm - Showroom Doors Close 
Guided Seminars & Fair, Open to Trade  Representatives, ONLY.
Food & wine specialty buyers, importers, brokers, hospitality reps, must register online, HERE. 
Doors open at 11 am, registration ticket necessary at check in.
NOTE: REGISTRATION IS NOT OPEN TO CONSUMERS, MEDIA/PRESS/BLOGGING/VLOGGING PARTNERS.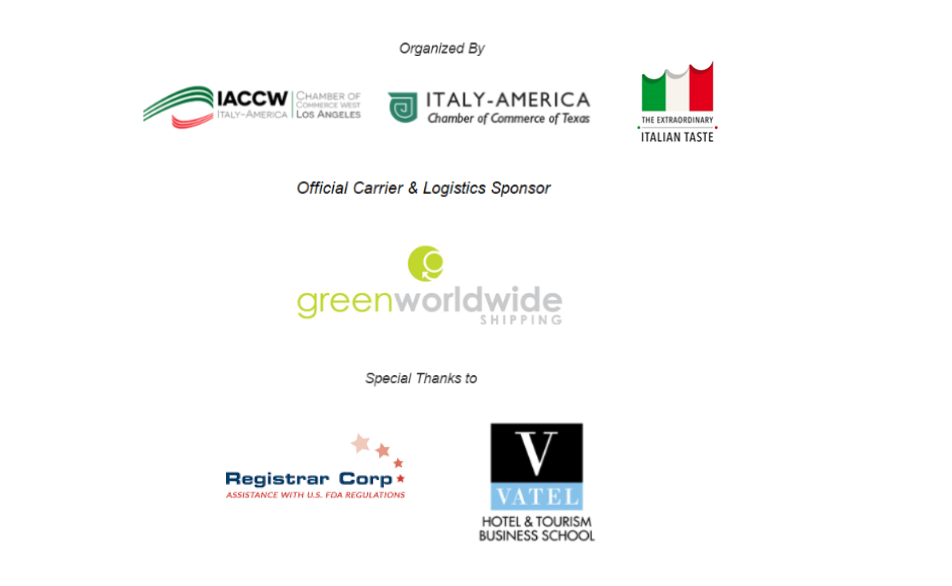 ---
 ITALIAN COMPANIES INTERESTED IN SHOWCASING THEIR PRODUCTS AT  SAVOR ITALY ™ 2019, FOR MORE INFORMATION EMAIL US AT INFO@IACCW.NET OR DOWNLOAD THE FORMS BELOW AND SEND US THE FILLED OUT APPLICATION TO INFO@IACCW.NET 
Modulistica in Italiano:
 SAVOR ITALY PRESENTAZIONE 2019 (ITA)
 MODULO SAVOR ITALY 2019 (ITA)
Information and Intake Form, in English: 
 SAVOR ITALY PRESENTATION (ENG)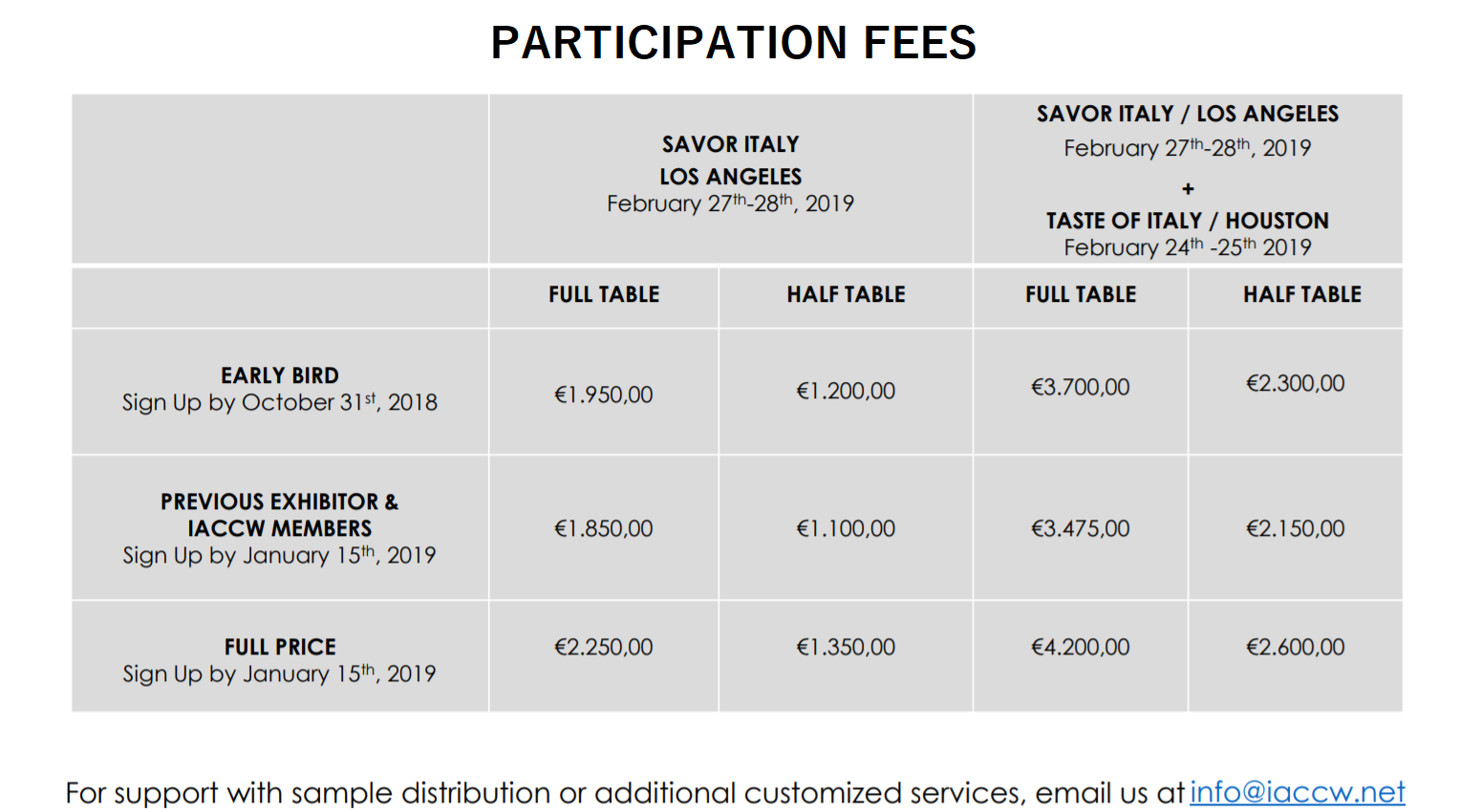 Below, check out the video of the SAVOR ITALY ™ Roadshow, Los Angeles, 2018
Below, check out the videos of the Savor Italy Roadshow, Los Angeles, 2017