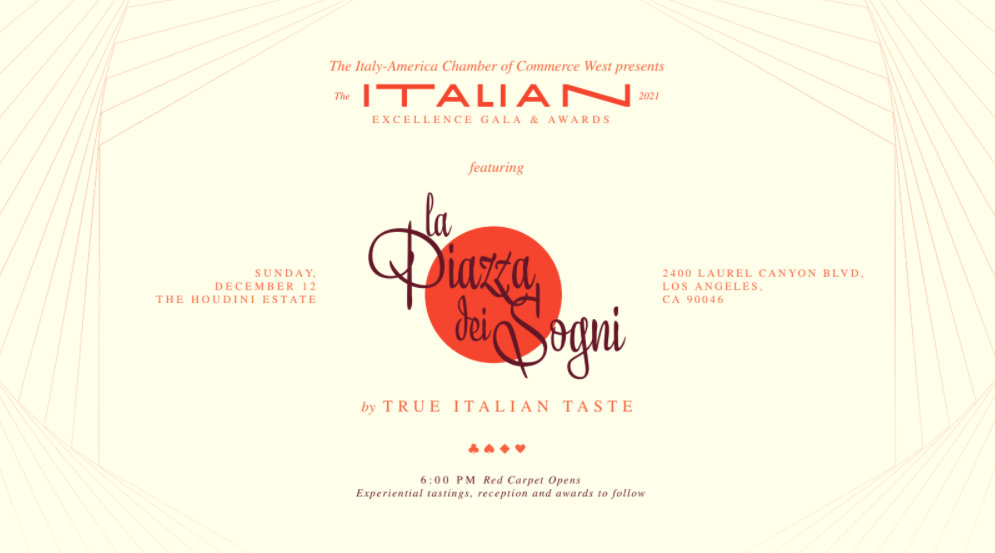 The Italian Excellence Gala & Awards is a prestigious event, recognizing leading Italian and Italian-American personalities, their distinction and their contribution to the Italian community in the US and globally.
The event will take place at The Houdini Estate, a five-acre property nestled in the Hollywood Hills. The mansion was the home of iconic illusionist and escape artist Harry Houdini. The grounds are dotted with caves and hidden tunnels, as well as beautiful terraced gardens. Houdini used this property as an escape, as well as somewhere to rehearse his daring tricks. This year's Gala features an extraordinary True Italian Taste "La Piazza dei Sogni" experience, the estate adds mystique and mystery to a culinary circus of unparalleled Italian activations.
ABOUT THE EVENT
Past Gala honorees include, Eric Garcetti, Mayor of the City of Los Angeles, Alessandro Del Piero, former Juventus F.C. captain and Italian national team legend, widely regarded as one of the greatest soccer players of all times, and NBA's Danilo Gallinari, Grey's Anatomy's Stefania Spampinato, Bianca Balti – supermodel, entrepreneur and Dolce & Gabbana's muse to name a few.
LA PIAZZA DEI SOGNI BY TRUE ITALIAN TASTE AT THE GALA
This year's Italian Excellence Gala hosts "La Piazza dei Sogni" by True Italian Taste, a vibrant sequence of experientials activations, tastings, live demos highlighting evocative stories of Italian territories, culinary treasures, artistic crafts and innovative impulses that have always been an integral part of Italy's fabric. At the Houdini Estate, attendees will be immersed in the values of Italy's artisanship, enveloped by the scents of authentic Italian cuisine and of the typical essences of the Mediterranean vegetation.
Chefs, street performers, brands and educators will bring the space to life with a string of experiences highlighting the eno-gastronomic genius of Italy, its brands, chefs and artisans.
True Italian Taste aims to educate on authenticity of Italian food & beverage products, thus offering consumers, buyers and writers alike the tool to recognize it and to appreciate it. The campaign is funded by the Italian Ministry of Foreign Affairs and International Cooperation, led by Assocamerestero and developed by the IACCW.
Event Program:
6:00 PM - Red Carpet Opens
- Cocktails and Recognitions - Honorees to be announced
- Experiential Tastings throughout the Estate (mostly outdoors)
PLEASE NOTE: This black tie event is primarily taking place outdoors, in a cocktail and experiential food & beverage stations format. No seated dinner.
COVID-19 SAFETY PROTOCOLS AND EVENT INFORMATION: this event will be held primarily outdoors, in line with COVID-19 safety protocols. We will require proof of COVID vaccination or negative COVID test within 72 hours for all guests. Please note: masks/face coverings are suggested to access indoors portions of the estate.
Attendees need to be 21+.
Ticket mandatory to access the event.
No tickets at the door.
For information regarding exclusive event sponsorship opportunities, click here and email us at info@iaccw.net, or call us at 310.557.3017
To find out more about the True Italian Taste Campaign, click here

Register Now!
Or paste this link in your browser's address bar: https://www.eventbrite.com/e/italian-excellence-gala-feat-la-piazza-dei-sogni-by-true-italian-taste-tickets-208918921117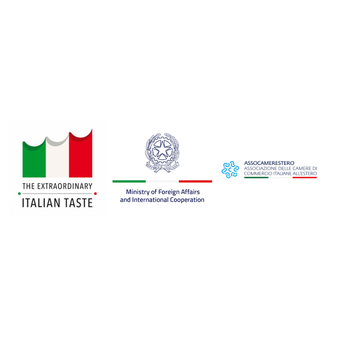 2400 Laurel Canyon Blvd, Los Angeles, CA 90046, USA