IMPORTANT NOTICE:
SAVOR ITALY ™ 2020 (APRIL 2ND) LOS ANGELES HAS BEEN POSTPONED UNTIL FURTHER NOTICE
Along with our partners at the IACC Texas, the IACCW, has had to postpone, until further notice, the roadshow gatherings, in wake of most recent COVID-19 travel restrictions and limitations issued by the international regulatory advisory board and local government authorities.
Please note that the IACCW & IACC Texas Teams worked hard on the much-anticipated Taste of Italy & Savor Italy™ Roadshow - March 30th - April 2nd, 2020 stopping in Houston, TX, New Orleans, LA and Los Angeles, CA.
Until we can reschedule the event, we wish to take you on a discovery journey of Italian food & beverage products with a virtual Savor Italy™ sneak peek.
Follow us on Social Media, share and like our posts and let us know what you are looking forward to the most
Every day we will share products, companies and inspiring stories and connect you virtually to those who will partake in Savor Italy™ until you can meet them in person!
Follow us on these pages:
Instagram: iaccw_la
Facebook: IACCWLosAngeles
Twitter: @Iaccw_LA
#SavorItalyTM
Ti aspettiamo ed alla salute!
---
ABOUT THE INITIATIVE
Organized by the Italy-America Chamber of Commerce West, the initiative aims to promote Italian food and wine companies, consortia, trade associations, regions and municipalities in the West Coast of the US, giving participants the opportunity to meet directly with specialty food & wine buyers, importers & more.
This year, we are featuring and highlighting, authentic delicacies from the beautiful Region of Calabria. If you wish to come savor the hidden specialties of the culinary tradition of Calabria, please join us in finding unexpected flavors of exquisite Calabrian beverages and the scrumptious tastes of Calabrian finesses.
---
PAST VISITORS
Buyers, specialty store representatives, restaurateurs and trade associations reps, distributors, importers and brokers.
---
IF YOU ARE INTERESTED IN SHOWCASING YOUR PRODUCT AT SAVOR ITALY ™ 2020 , EMAIL US AT INFO@IACCW.NET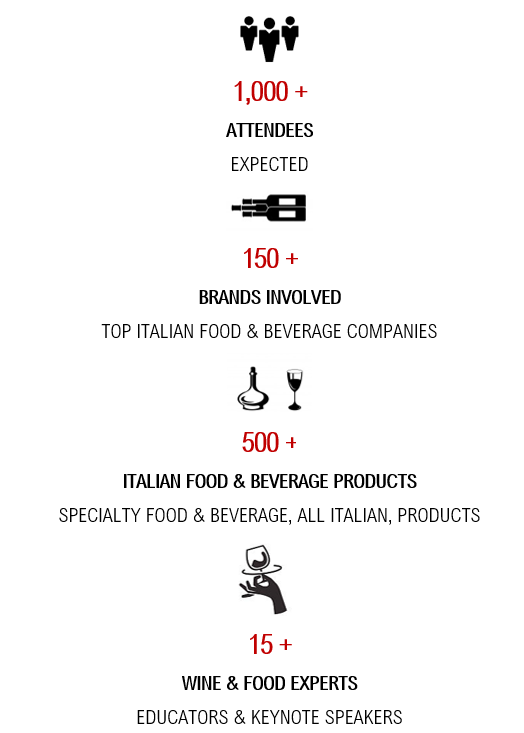 Featuring

---
TO VIEW LAST YEAR'S EVENT PHOTOS, CLICK HERE
---
Registration for this event has passed
225 N Canon Dr, Beverly Hills, CA 90210, USA