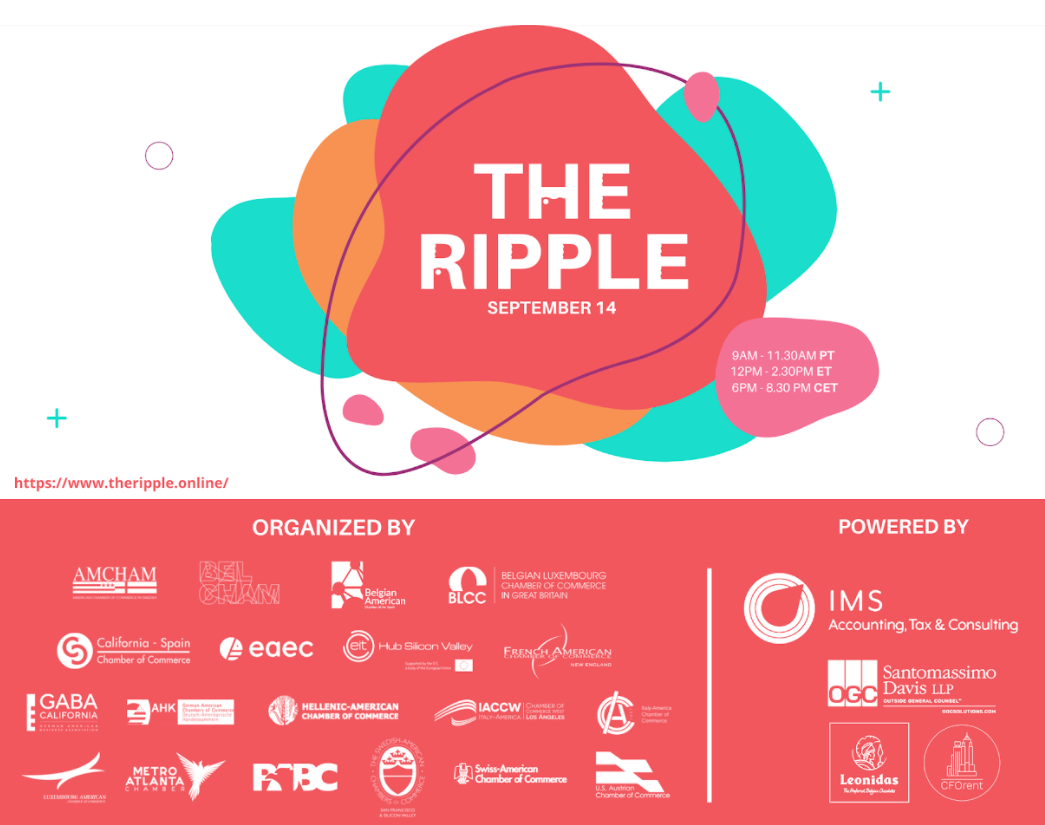 After four wildly successful editions, we're back with the fifth edition of THE RIPPLE, the largest online networking event based on professional matchmaking for and by the transatlantic business community, on September 14.
What is one thing you can do to massively expand your capabilities, grow your business, or simply meet your objectives? Tap into the power of your (transatlantic) professional network!
The Ripple is a virtual networking event where the goal is to create 1,000+ new connections amongst shared business communities and launch a ripple of new opportunities.
Each participants can set up up 11 one-on-one virtual meetings of 12 minutes with other individuals to discuss a mutually beneficial topic. We call it serendipity with intent.
TIMING
September `14, 2021: 9-11.30AM PT | 12-2.30pm ET | 6-8.30pm CET
HOW TO PARTICIPATE
Step 1: Create your profile on Conversation Starter via this link: https://events.conversationstarter.net/e/en-thrppl5. You will be asked to highlight your expertise (#offer), share your requests (#ask) for collaboration, as well as flag topics that you would like to connect on. This event is free for all founders, entrepreneurs, experts, investors, expats / professionals, business enablers, and corporate leaders looking to fast track transatlantic innovation and collaboration.
Step 2: In the days leading up to the event, you can browse profiles and send invitations for 12-minute video calls on the Conversation Starter portal. The tool is equipped with a recommendation engine and smart scheduling features. Meeting invites can be sent or accepted with a simple click!
Step 3: The day of the event (September 14), dive into your private meetings! Please note that you have to schedule your meetings up front (see step three)! You control your agenda! Find more info on www.theripple.online.
About Conversation Starter: If LinkedIn, Zoom and Calendly had a baby they would call it Conversation Starter. https://www.conversationstarter.net
When you register, you allow us to share your info/email with Conversation Starter for the purpose of inviting to the tool and receiving event updates.
---
EVENT SCHEDULE
8:30 AM PT | 11.30 AM ET | 5.30 PM CET
Collective kick-off with speaker session
9-11.30 AM PT | 12-2.30 PM ET | 6-8.30 PM CET
One-on-one networking (up to 12 meetings of 12 minutes), scheduled and customized by each participant
MAXIMIZE YOUR BRAND EXPOSURE BY SIGNING UP AS A AN EVENT SPONSOR, TODAY!
TO FIND OUT MORE CLICK HERE AND TO SIGN UP, EMAIL US
EMAIL US AT INFO@IACCW.NET
Registration for this event has passed